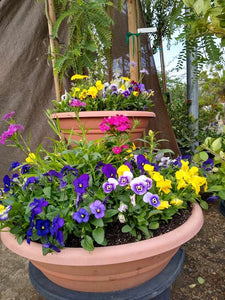 We're open to the public.
Plants
Colorful annuals, hardy perennials, Antique roses, herbs, veggies, vines, shrubs, palms, agave and cacti, trees, hardy succulents and one of the best selections of natives.
Garden Products
Fertilizers, amendments, insecticides, herbicides, repellants - we are a one-stop shop for your garden arsenal. Our helpful staff can assist you in diagnosing whatever problems you may be having in the garden and get you the products you need to treat the issue at hand. If your garden is already healthy and happy, we have the goods that will help you maintain a lively ecosystem in your own backyard.
Seeds
A colorful and wide assortment of seeds can be found in the hallway of the shop. Seeds for herbs, vegetables, annuals, and perennials can always be found during their appropriate planting season; most varieties are untreated or organic. 
Bulbs
We carry bulbs on a seasonal basis, so be sure to stop in during the fall to get your bulbs planted for spring color.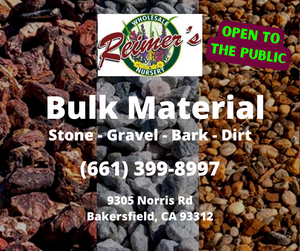 Bulk Material
We offer a wide selection of bulk material and deliver in Bakersfield. Ask for details. See our list of bulk materials.
Subscribe to our newsletter
Promotions, new nursery products and sales. Directly to your inbox.